This drill bit is precision milled and cuts cleaner than any drill bit you'll ever encounter. This is achieved by having the pin perfectly in the center of the drill, which will always create a centred hole. This super clean cut drill bit is extremely efficient in both cross cut as well as with the grain.
Apart from being the perfect timber drill bit, the knife-like flutes of the Star-M bits will also deliver you a clean and precise cut in more fibrous materials, such as bamboo.
Specifications:
Range: 3mm - 18mm
Overall length: 80mm
Average weight: 20g
Customer Reviews
06/11/2020
I recommend this product
STAR-M drill bits. &. Wooden nails.
The drill bits were a pleasure to use. They stayed very true while drilling my pen blanks which are mostly hardwood burls &the cut was very clean and no splintering on the end cut. The wooden nails served two functions joining & decorating some of pieces I make as a hobby.
Andrew M.
Australia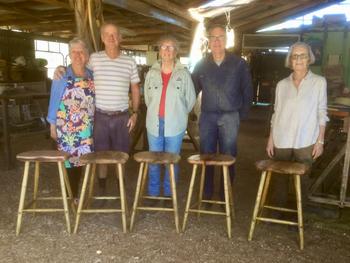 10/23/2019
I recommend this product
Drill bits
Fantastic Mitch a pleasure to use. Please send me a 16 mm one as soon as they are available Regards Geoff
Geoff T.
Australia
07/20/2020
I recommend this product
Lives up to expectations
I used this to cut a clean circle for abalone inlay on a guitar fretboard. Perfect cut and flat bottomed. Excellent. My only issue with these is their short length. I note luthier supply shops are now stocking these. Obviously news is getting around. David Trembath
David T.
Australia
05/29/2020
I recommend this product
Super clean cut
Needed a super clean edge in red cedar and these bits provided it, centering is also very accurate. I have a good set of forstner bits too - but these Star-M bits definitely cut a cleaner hole. Agree with David T, drilling depth is limited due to their being short - but for what I needed to do, they are spot on.
05/17/2020
I recommend this product
Sharp edges on drilkl lhole
It worked as advertised. My issue with it however is its short length. In the end I had to supplement with a longer bit to get the holes I needed (or slotted guitar head tuners) Recommended for limited use or use a Forstner bit
David T.
Australia