Designed to aid makers of Noh masks, an extremely demanding traditional carving craft, his 18mm curved gouge is designed for excavating across and with the grain while leaving an exceptionally clean surface. It's HSS blade is of exceptional quality, able to be resharpened and capable of taking an edge for an exceptionally long time. The long timber handle provides ample space for hands of all sizes to manipulate the tool with control.
Spoon carvers, vessel makers and whittlers will enjoy it's great cut quality and ease of use. To sharpen, we recommend touching up the outside bevel only, and leaving the interior. This tool can be honed with strops or buffing wheels. For those without those resources, we recommend cutting into some scrap wood to match the profile of the blade, and adding slurry from a medium waterstone (we find the #1000 Cerax works really well). By running the bevel across the matching profile impregnated with sharpening compound, an excellent edge and finish is able to be achieved.
This tool ships with the blade dipped in protective lacquer. We recommend removing the lacquer with methylated spirits or other solvents, but please note that anti-rust care measures should be observed.
Customer Reviews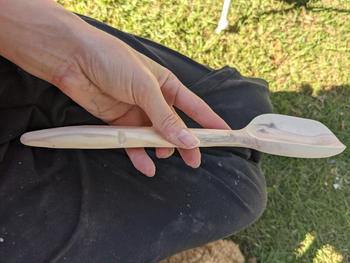 07/02/2021
I recommend this product
Spoon gouge
This is my first time carving and using a gouge. It was awkward at first but once I figured it out it was perfect! Creates beautiful curves.
Jamie-Lee G.

Australia
10/01/2020
I recommend this product
Another great tool in the arsenal
The gouge is a real joy to work with, complements other carving tools to achieve great results and also great to use on its own if it's the only gouge you have for spoons and bowls. Highly recommend picking one of these up.
Benjamin

Australia
01/13/2020
I recommend this product
Carving made easier
Fantastic tool that is beautifully made and is sharp from the retailer. The long handle provides both good grip and good leverage for a scooping motion when carving bowls. Hand carving is a demanding past time but a well made tool definitely helps and I have no regrets about buying this gouge
james d.

Australia
02/21/2020
I recommend this product
Terrific
The gouge has been amazing and the service terrific. One of the best sites to buy beautiful tools for creative work.
Anna C.

Australia