Heavy Duty Canvas Saw and Tool Bag
$92.00 AUD
This bag is made of a heavy duty canvas. It is approximately 600 mm in length, which makes it ideal for carrying pull saws amongst many other tools. It's 600mm long, 150 mm deep and 130 mm high and has 12 pockets in total.
Please note that this bag will only be posted within Australia ($20).
Customer Reviews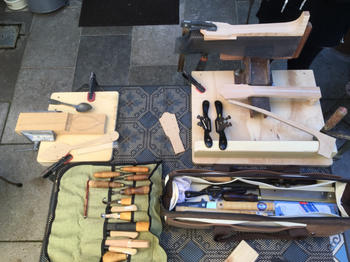 04/05/2020
I recommend this product
Japanese tool bag
A terrific storage bag for my various saws, files and spoke shaves associated with fashioning Tenor ukulele necks.
John M.

Australia
07/01/2021
I recommend this product
Top quality
The tool bag is very well made, it should last for ever. Zips are also well done. The thing is it also looks really good.
12/09/2019
I recommend this product
Tool bag
G'day. \I bought it for my son in law, who is commencing an interest in woodworking. I hope to encourage him to fill the bag with tools. I make guitars and surfboards, and have a growing interest in all tools, with a special interest in Japanese wood working tools. I use several Japanese saws, and files, and have interest in other tools as well. Regards, Jim. Jim.
Jim D.

Australia
03/18/2019
Heavy Duty Canvas Saw and Tool Bag
I bought this as a tool bag for paper conservation and it's perfect. I carry everything from large brushes to small metal tools, extra materials/ supplies and large rulers. Most of all looks professional in comparison to other tool bags & fits everything without being bulky. The shape is great because it doesn't take up too much space in the lab or on other working benches. Bit pricey but good quality...I don't expect to replace it and I haven't found anything similar in Australia.
07/01/2018
Perfect
Delighted with this Carries my saws , and a bunch of other bits and pieces,