Power Grip - 7 piece carving set
$95.00 AUD
This set of chisels is a great beginners set as they are common profiles and they come ready to use, sharp out of the box. The blades are made of laminated steel. These chisels have ergonomic handles allowing the wood worker to comfortably hold the handle in various positions.
This set contains the following carving chisels:
3mm curved gouge
6mm curved gouge
8mm skew chisel
8mm straight chisel
5mm V-paring chisel
9mm slight curved gouge
9mm curved gouge

This set is a good starter set for Netsuke
Overall length: 150mm
Blade length: 28mm
Customer Reviews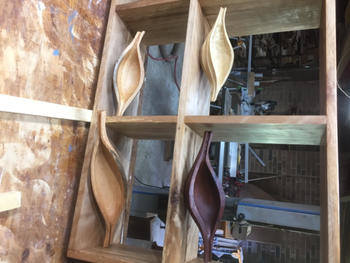 05/01/2021
I recommend this product
Power Grip Carving Set
This set of chisels was recommended by Hape Kiddle in advance of one of his workshops . His experience and talent as an artist carried a lot of weight . The set itself is helping improve my abilities with carving and allows me a greater range of cutting options. The tools were sharp and ready to use from the box. Good value for money . Peter
Peter B.

Australia
01/16/2021
I recommend this product
Power Grip 7 piece carving set.
I needed some small carving tools to help out with my guitar building. I also had a small netsuke project I wanted to do. These tools were an excellent purchase. Out of the box they were ready to go and needed no sharpening. They could shave the hair on my arm. The handles look like red oak and are easy to hold in various positions to get that precise cut. I am also impressed by the box they come in. There's a moulded plastic tray for each tool and also a soft plastic tip to protect each tool. When I'm finished I put them away in their respective place and throw the box in a drawer. It's often the little things that count. The range of shapes is also excellent. I was able to achieve everything I wanted. Another high quality tool from JTA. Thanks guys.
Mal

Australia
09/01/2020
I recommend this product
Review of Powergrip - 7 piece carving set
Seem to be good quality and selection of tools although perhaps not all appropriate to netsuke carving which is my interest. Value for money. John Eberbach.
John E.

Australia
10/09/2018
Query
Can't really see the back end of the chisel. Is it full timber? Are they suitable to be tapped with a timber or rubber mallet? Any information is welcome! :)
10/09/2018
Japanese Tools Australia
Hi Rico, Thanks for asking. the handles are all timber. We wouldn't recommend driving with anything heavy - light taps with a small timber mallet at most. These are designed to work with hand pressure. If you'd like more information feel free to call or email us! Best, Mitch
07/31/2018
Great Beginners product!
Purchased these as I had the idea of carving a small box for my girlfriend, first time carving aswell! All went perfect! Chisels worked great! Box came out great and girlfriend loved it! Only downside is chisels are quite dull now but looking forward to sharpening them up with some waterstones which I'm yet to buy!