Flat Blade Mattock
$44.00 AUD
A compact mattock able to be used in with one hand, this wide-bladed model is perfect for turning soil even when it has a high clay content. Able to deliver manageable force, it is a great solution for garden preparation that challenges smaller hand tools without needing to resort to a heavy and cumbersome mattock.
Overall length: 390mm
Head weight: 310g
Blade Length: 160mm
Blade width: 75mm
Customer Reviews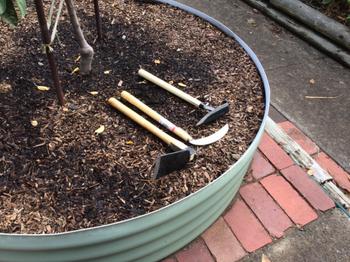 05/09/2021
I recommend this product
Flat blade mattock
I operate from a wheelchair, and a bit of extra reach, without the need to lean-over, is always welcome. The flat blade mattock is not only great for digging, it's also handy when chopping suckers from rootstock, removing sprouting branches from close to the trunk, loosening stones and removing clumps of deep-seeded weeds.
Peter P.

Australia